EPS TURNKEY PROJECT
Eps Turnkey Project For Manufacturing Expandable Polystyrene And Various Types Of Packaging Such As Tv, Radio, Spareparts. Styrofoam Ice Boxes, Vegitable Boxes. Polysterene Fish Boxes. Thermocole Sheets & Bricks For Cold Storage& Building Construction. Roofing Tiles & Toyes. Rigifoam Pipe Section For Insulation. Esp Float For Fishermen. Vaccine Boxs & Tray For Medical Application.
Enjoying over 80% market share in India. Successfully installed more than 98 complete EPS Projects in India & 42 complete EPS Projects in 12 countries worldwide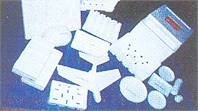 OUR SERVICES:
EPS project report, Consultancy& Hands on training For EPS processing. We also provide EPS trainee manpower We also undertake complete Turnkey Projects for ICE-CREAM PLANT& all other Custom-built projects Our Merchandizing Division deals in export related Trading Activities. Visit us at K-2004 Dosseldorf, Germany. Hall No. 12, Stall No.: D-17 From 20th Oct. 2004 to 27th Oct. 2004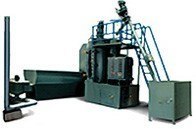 ALL UNDER ONE ROOF
We have designed, built and installed Latest EPS processing machineries all over India and other countries such as - Saudi Arabia, Nigeria, SriLanka, Nepal, Kenya, Bostswana, Eritrea Sudan, Tanzania, Yemen and Muscat. We are entering in Germany / Australia / America and European Countries.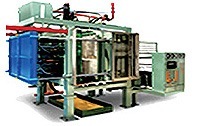 PRODUCT RANGE
EPS Prefoaming machine with Fluidized Bed Drier & Sieving Unit Fully Auto Hydraulic EPS shape moulding machine / Pneumatic shape moulding machine. EPS Fully Auto / Semi Auto Block Moulding Machine. (Up to 8 M long) EPS shredding machine with Dust Seperator Systeme & Melting Plastic Machine. EPS Moulds (Dies) & material feeding guns. EPS Sheet Cutting, EPS Pipe Cutting & EPS Trimming Machines. EPS moulded packaging, various sizes of EPS Sheets, Pipe Sections& EPS Roofing Tiles. Note : We also manufacture the EPS machines as per customers requirement, and various sizes & different capacities.