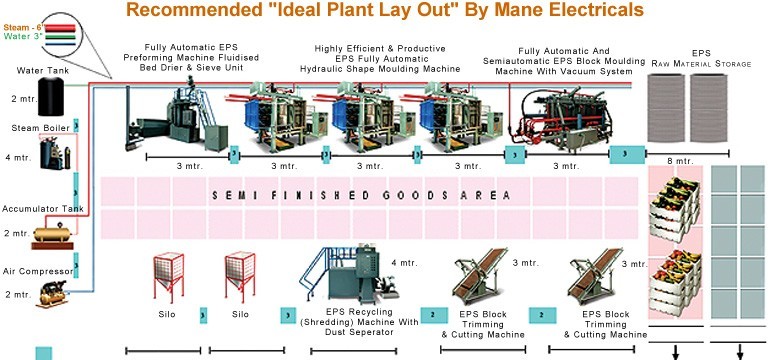 Complete Installation & Commissioning:
We will install all machines, compressor, Boiler, Accumulator tank, Air Receiver Tank, Cooling tower, Pipe line etc. provided by us at your industrial premises. Free Installation for a period not exceeding 15 days By Mane Electricals Engineers / Technicians. To & Fro Travelling, Free lodging & boarding facilities to be arranged by you at your cost. After a period of 15 days, installation charges will be Rs.2,000/- per day. Over-time, Sunday & holiday hours, travel time and waiting periods are to be deemed working hours. As soon as the installation & commissioning is over our Engineers / Technicians will leave the site. Unskilled workmen/helpers will have to be provided you at your cost.
Pipe Line: Complete steam pipe line from boiler, accumulator to machine with moisture separator and auto drain with complete insulation if provided by us will be done. Or else you have to make arrangement upto machine inlets.
Test Run & Training to your Operators: After successful installation of machines, boiler, accumulator, compressor, Air Receiver Tank, Cooling Tower and Pipe Line, plant will go under Test Run up to installation period or upto your satisfaction whichever is earlier. We will also provide training to your operators during test run period.
OUR LIMITATIONS:
1. You have to provide a civil work like drainage line, underground cooling water tank with partition wall in between of it. (If Needed)
2. To provide electrical power supply & all equipments require affixing the machines and other instruments.


WARRANTY:
Equipments manufactured by us are under warranty for a period of 12 months from the date of dispatch for defective workmanship only.
However, our warranty does not apply to Electrical and bought out items supplied with machinery, normal wear & tear or damages occurring & caused by faulty or negligent treatment, Electrochemical or Electrical influence and not through our fault. Our liability ceases when repairs or replacements are rendered more difficult due to unauthorized repairs performed by the buyer or when the equipment supplied is modified without our agreement. Responsibility for proper design and usability of products made with our equipment rests with the buyer. Boiler and compressor and all other bought out items from market are not manufactured by us and are supplying only to help the customers. These are not under warranty or otherwise you can purchase these items directly from the concerned manufacturer. All contracts between purchasers and ourselves are deemed to be entered into at Pune, and are therefore, subject to the jurisdiction of courts at Pune, India ONLY.